This site presents historical evidence to help students explore the Australian WWI debate on conscription (compulsory military service).
It includes a theatre script that dramatizes these events (The Blood Votes) to help students and teachers explore this significant episode in Australia's modern history. Below you will find resources for historical study, the script by playwright Michael Futcher, a film of the play, and suggested teaching and learning activities.
The debate
The conscription issue dominated 'home-front' life in Queensland and Australia during WWI. During 1916, with the horrific war in Europe at stalemate and volunteer recruitment in decline, Australian Prime Minister W.M. Hughes promoted a system of compulsory conscription for service overseas. His views were expected to prevail, but were opposed by many.
This set the scene for a protracted, epoch-defining debate in homes, town halls and parliaments across the country. Men and women, young and old, voiced their heartfelt views on either side, for or against. The exchanges that played out in public speeches, newspaper editorials and across kitchen tables were extraordinarily passionate, because the Australian war effort had reached its crisis point. As the personal and national costs mounted, public opinion was no longer unified in patriotic enthusiasm for the war.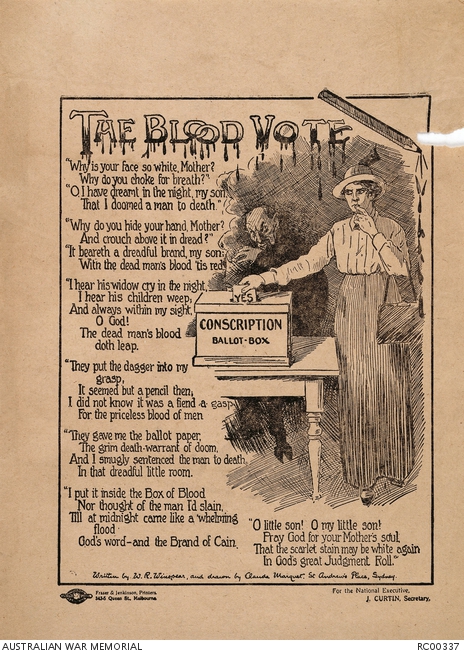 Historical study resources
A collection of research materials for use by students.
Historical background
A short summary of the historical context relevant to the Australian conscription debates of 1916-17.
Primary sources
Original source materials that illustrate key themes in the Australian conscription debates.
Historical biographies
Summary biographies of key figures in the Queensland and Australian conscription debates.
References
Comprehensive list of published historical materials, suitable for further reading.
Project partners
This project was generously supported by a Queensland Government ANZAC Centenary Grant.
The Blood Votes
A play by Michael Futcher, performed by the Queensland Shakespeare Ensemble, Brisbane, November 2018.
Please note that the video above is an excerpt only - video of the full play is to come.
(Please note this script is original creative work, and is subject to copyright provisions. Permission is required to perform it outside the educational context. Please contact Kubler Auckland Management in the first instance to apply for performance rights.)
Teaching pack
This teachers' pack has been designed to be used within the context of a Year 9 history audience. Specifically, this pack is designed for the in-depth topic discussion on "The impact of World War I, with a particular emphasis on Australia including the changing role of women" (ACDSEH096).
Students will explore the conscription debates, with the assistance of Michael Futcher's play The Blood Votes. They will explore the important people and groups associated with this time period and historical themes including nationalism, social tension, loyalism, propaganda, religion and censorship.