My father was an architect and dragged us through the English country-side for a brief stint of my childhood. I remember visiting a Cistercian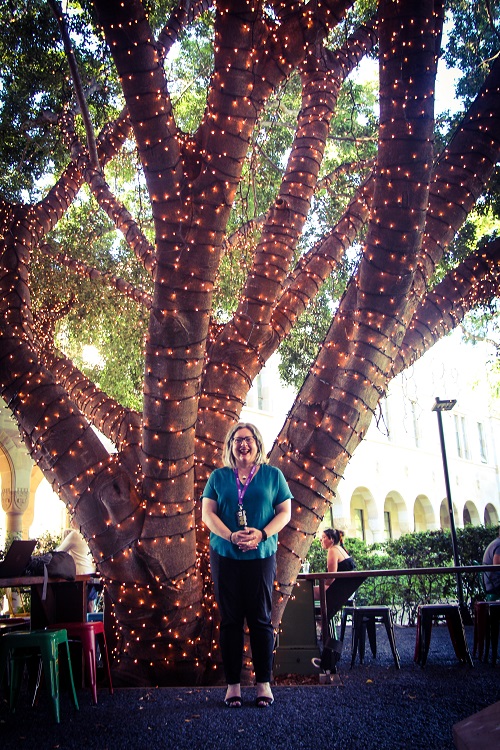 monastery, Fountains Abbey, near Harrogate in Yorkshire, and the place was absolute magic. The architecture and landscapes sparked my imagination. My childhood was otherwise conventional with the privileges of middle class life and endless summer holidays in Adelaide where my mother was from.
I did a dual degree in Arts and Law. I dropped Law when I was told I needed to do summer school on taxation. I liked legal history though, which was telling. The professor (Robin Sharwood AM) was approachable but also a luminary on campus and in the legal profession who inspired through being a wonderful story teller. I needed time to stumble around in my undergraduate degree and fall upon something that interested me. I completed an honours thesis in Roman History and for the first time during my degree, undertook a medieval history course. This was an interdisciplinary seminar on Crusades and Pilgrimage, taught by an amazing team of scholars from Classics, Byzantine Studies, History, Art History, Philosophy, and Literature.
I did an MA at Birkbeck College in London and I grew up a lot there. I taught primary school during the day and did my post-graduate work in the evenings. Teaching primary school taught me how to manage groups of recalcitrant people, which happened to be a transferrable skill. The MA in Medieval Studies was a great program – full of language and palaeography courses, the content on which has underpinned my career ever since.
My PhD took me back to the Cistercian monastery of my childhood where I studied monastic spaces and their meanings.  I had enormously generous institutional support that allowed me to travel to England and France for archival research and to attend conferences. There were no digital sources at the time and the experience was transformative for me.
Monastic living contrasts with modern academic life where academics are under pressure to do too much and to do everything well. It is harder for people to have a successful career with teaching, research and engagement on local and international levels. It's hard to switch off and find work-life balance.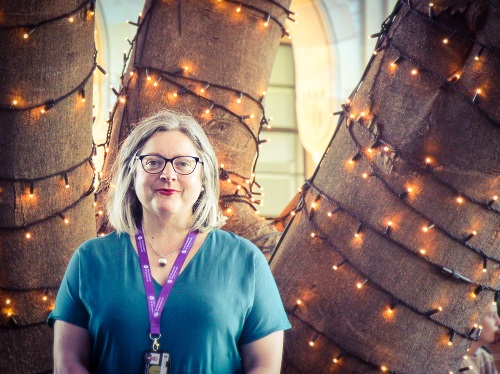 'Don't sweat the small stuff' and 'pick your battles', that's how to survive an academic career. Time-management helps too, making a list of what you need to get done in the day. Talking to your colleagues and having a sense of humour keeps you learning and engaged.
It may sound insane but my favourite part of my job as Head of School is the appraisals. It is when I get to talk to a person about their aspirations and trajectories. Learning about the lives of those I work with is a privilege and I can be one of the people who can help propel people to build the career and life they want. It is a collegial service role where all those forms are really the building blocks to conversations. I've learned that people do not correspond to lines on spreadsheet, nor should they. I've enjoyed having a voice through this role where I can celebrate the achievements of the School with senior management.
The Head of School role is about balancing institutional expectations with an empathetic and compassionate approach to staff. The school has enormous potential and I want the School to grow big things and let the incredible work they do shine. The School of Historical and Philosophical Inquiry is unique in Australia for offering a boutique humanities where four disciplines speak to each other. It is a premier destination for the humanities and deservedly so.
What do I want for the Humanities? I want empathy, I want critique – they sound like polar opposites but they are not. I want the human in the humanities. The humanities can teach a million things, but for me, it is about people and humanity.
The UQ campus is beautiful in its physical and natural features. I feel like I'm coming to a resort when I come to campus. UQ has been a place of busyness and happiness for me. I'm looking forward to taking some leave before starting in my new role at Australian Catholic University. I plan to get to know my own city, to continue my parallel career in competitive tennis, and to hang out with my adult boys.
Megan Cassidy-Welch is Professor of History and Head of the School of Historical and Philosophical Inquiry and the sixth McCaughey Chair in History.
Narrative, photo and interview by Ryan Williams