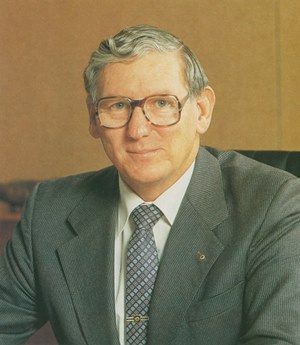 Sir Bruce Watson Scholarship
Sir Bruce Watson AC (1928-2008) was a prominent Queenslander in the fields of mining, business and corporate philanthropy. After a professional career as a civil engineer, beginning at the Townsville Regional Electricity Board in the 1950s, he rose to become Chairman of MIM Holdings, one of the most prominent and important Queensland companies. A UQ graduate and later a member of the university's Senate, Sir Bruce was a significant figure in the corporate and political landscape of the period from the 1970s through to the 2000s. In his philanthropic career, Sir Bruce supported numerous initiatives and causes, most prominently as Chair of the Queensland Institute of Medical Research and Chairman of the Queensland Art Gallery Foundation.
Ms Helen McMonagle was awarded the Sir Bruce Watson Scholarship in 2013, after a competitive search. Helen is being supervised by Dr Geoff Ginn, Emeritus Professor Peter Spearritt and Adjunct Professor Ruth Kerr. The title of her MPhil thesis is, "A Man for All Queensland's Seasons: Sir Bruce Watson." The project will be largely biographical, exploring the myriad of ways in which Sir Bruce influenced the development of Queensland's economy through his role as Chairman of MIM/Xstrata, his influence on equal opportunity within the mining industry, and his philanthropic activities which encouraged corporate support of medical research and charities. The basis of the research will come from archival research, including Sir Bruce Watson's personal papers; oral history interviews will also play a large part in this project. Helen completed Honours in History at The University of Queensland in October 2012, and was elected President of the Royal Historical Society of Queensland in September 2012.
Sir Bruce Watson played a major role in shaping the Queensland mining industry and introducing gender equality within that industry and wider corporate management. His biography will reflect the emergence of Queensland as an internationally recognised natural resource provider, and the changing face of philanthropy.
The School gratefully acknowledge Sir Bruce Watson's family for their generosity in funding this scholarship.
Scholarships information
UQ offers financial support to Research Higher Degree (RHD) students through a wide range of scholarships.
Please see the UQ scholarships page for further information on scholarships.
We strongly recommend students apply for scholarships for which they are eligible.