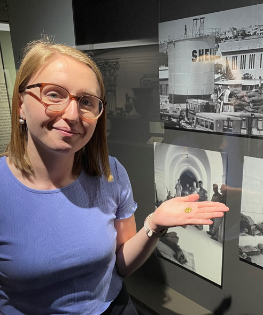 My heart has been set on working in museums – a path that brings together my interests in research, working with tangible collections, and educating visitors. This vision has led me to my current role as a Curatorial Assistant with the RD Milns Antiquities Museum at UQ.
My favourite item is the one I fell in love with when I first stepped into the Museum. It's a gold stater coin of Alexander the Great, featuring the goddess Athena, from the Hellenistic period. Aside from it being made of pure gold, there is so much history to gain from it! It speaks to a period in transition from Alexander's world to the Roman empire. I captured the moment I first handled this coin on camera (pictured), and the coin features in the Museum's upcoming special exhibition that I worked on as a Curatorial Assistant. I was delighted to discover recently that the coin was the favourite of the late Emeritus Professor Robert Milns AM, in whose name the Museum is dedicated.
I was originally inspired to get into museums and Ancient History as an undergraduate student through the Museum's work experience program in year 12. Encouraged by my Ancient History teacher to apply, I had the opportunity to develop a mini exhibit. After graduating, I took a gap year (or two) and went into financial services but soon found that it was not the right culture or fit for me. Working for a few years helped me to be more forward thinking and to develop initiative since  my parents always told me, 'do what is right for you'. At the same time, with my ultimate goal in mind, I volunteered in Toowoomba's Cobb & Co Museum which set me for volunteering and employment at the Queensland Museum as a Visitor Services Officer. The work has stayed relevant and exciting for me. Throughout my degree in Ancient History and Classical Languages (Latin and Ancient Greek), I've been able to work with the Egyptian Mummies exhibition and the Gladiators exhibition, and I get to keep learning!
Volunteering and making industry connections is so very important as students often struggle to get experience for employment. I have since gained further experience volunteering and working with collections, developing a collections database, digitising online exhibits, researching, and it's given me a lot of skills beyond this. It relates to what I really enjoy studying and has helped to diversify my skillset with specific, yet transferable skills.
What I enjoy most about the combination of material culture and textual analysis in Ancient History is that it allows us to gain insight into the 'bigger picture' of the ancient world, as well as our own. The more we learn about the past, the more we know about our own world! I intend to complete  my Honours thesis on what material culture and texts, considered together, can tell us about cultural change. I had the opportunity to develop my topic on Julio-Claudian emperors by giving a paper at an international and interdisciplinary undergraduate conference that brought together motivated students of ancient studies with international academics.
Museums are going in an exciting new direction all over the world. The pandemic has pushed innovation in the Museum space and Museums are putting physical exhibitions and collections online and reaching a wider audience. There is a new generation of museum professionals emerging, especially in Australia, with new ideas and who follow unconventional pathways into the industry and bringing different qualifications and skillsets.
For me, keeping my experience diverse is the key. Whilst I love working with antiquities, and it will always be my passion, I'm also working with modern ceramics as a volunteer at the Queensland Museum, doing research on individual objects. It's rewarding and fascinating to branch out and keep learning, and applying my knowledge of the ancient world to interpret modern objects. I've written a blog on my most recent research project, soon to be published via the Queensland Museum Network blog.
There are so many opportunities in Ancient History and Classics here at UQ. I've been busy but have had so much fun. As President of the Classics and Ancient History Society at UQ with a talented executive team, we've been busy organising social events that include lectures and a new 'paint and sip' event where students engage with replica artefacts by painting and sketching them, and sipping wine of course! We have also run a range of academic programs, including an annual student seminar for students to present their research, and translation competition for Latin and Ancient Greek students.
What do I do in my spare time? I don't have much, but I have taken up a ceramic course– learning how to make real ceramics with a spinning wheel and clay! Given that I research ceramics (ancient and modern) in the museum context, I thought it would be fun to make it and I find enjoyment, and even therapy, in the process!
There are many different ways of doing Uni, there's no longer just one way—I've taken a slightly longer time to finish my degree but I know what I want to do and I've had such great experiences along the way. It's been hard work, but I'm doing what I love.
Allie's role with the Museum is funded by our generous community of donors, who have long supported the Museum's activities, including through the acquisition of artefacts. To join our community of giving, click here