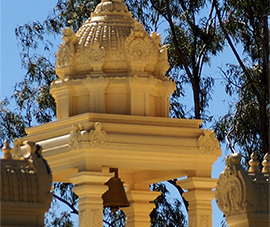 Researchers in the School have recently achieved significant grant success with the award of an ARC Linkage Grant to develop the Queensland Atlas of Religion in partnership with the State Library.
The project builds on the School's earlier success with the public reference websites the Queensland Historical Atlas, Queensland Places and Queensland Speaks, all developed by Professor Peter Spearritt since 2007. These are hosted by the School as part of the Digital Histories, Cultures and Landscapes suite of digital resources.
The new project will investigate, document and interpret the diversity of religion and religious practices in Queensland's past and present. Using an inter-disciplinary approach, it will generate the first major scholarly treatment of religions in Queensland via a large public reference website. It will involve four PhD projects, a state-wide project reference group for community input and a range of regional research initiatives. Funding support will be supplied by the Australian Research Council (through a $252,476 Linkage Grant announced on 5 July 2019), the State Library of Queensland and The University of Queensland.
Led by HPI's Dr Geoff Ginn (History) and Dr Adam Bowles (Studies in Religion), the project will involve a number of the School's researchers and affiliates: Dr Tom Aechtner (SiR); Professor Philip Almond (IASH); Dr Maryam Jamarani (UQ Graduate School); Emeritus Professor Peter Spearritt (History); Dr Richard Martin (School of Social Sciences); Dr Ryan Williams (SiR) and Dr Valerie Cooms (History). Jess White contributed to the successful application as the project's administrator in 2018, supported by a HASS Faculty Research partnerships grant.
The Atlas will be the first time that a place-based approach has been employed for a scholarly study of Queensland's religious pluralism and diversity, emphasising the patterns of historical accommodation and inclusion needed to inform religious toleration and cross-community understanding today. In generating new knowledge, the Atlas aims to present its research outcomes in a well-tested and readily available digital format for broad public access.
For further information, please contact Geoff Ginn (g.ginn@uq.edu.au) or Adam Bowles (a.bowles@uq.edu.au).