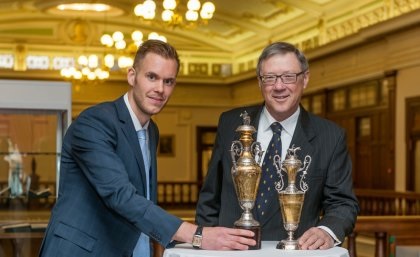 The University of Queensland has joined forces with Brisbane's Tattersall's Club to explore the club's history and heritage through an industry-funded student scholarship project.
Coinciding with the Club's 150th anniversary celebrations this year, UQ Master of Philosophy student Alex Lister will trace the club's history.
Co-supervisor Dr Geoff Ginn, from UQ's School of Historical and Philosophical Inquiry, said previous projects in this vein included works involving the Queensland Rifle Association and the Australian Federation of University Women.
He said Mr Lister would record the character, personalities and anecdotes on the club, analysing its collection of memorabilia, photographs and trophies, and would make recommendations for managing and displaying the items.
"The rich and fascinating history of long-standing organisations like Tattersall's Club is well suited for academic historical research," Dr Ginn said.
"By developing their independent research strategy with the needs of the industry partner in mind, our students gain valuable experience in applying historical analysis to practical results."
Mr Lister studied at UQ as part of an exchange program while working toward a Bachelor of Arts in History from the University of London. He completed that degree in 2013.
He will present preliminary findings at an event at the club in June.
"The project is a wonderful opportunity to document the history and character of one of Brisbane's premier institutions," Mr Lister said.
"I am enjoying the challenge of working with vast documentary records dating from the late 19th century to the present, and utilising these items to portray an accurate and lively history of the club.
"I feel privileged to be in this position and am determined to do this great Club and its history justice through my research and writing," he said.
Tattersall's Club President and University of Queensland alumnus and supporter Mr Des Whybird said the club's history is integral with the early and continued development of Queensland.
"Our membership of more than 5000 across Australia and the world has shown enormous interest in both the project and learning of our past," Mr Whybird said.
"We have received some amazing contributions of heirlooms and artefacts of significance from members' families, which will be proudly displayed during Members' Week (in June)."
The scholarship is valued at $25,000 over two years, $50,000 in full.
Media: Tattersall's, Jane Alexander, 0405 737 128, 3331 8879, jane.alexander@tattersallsclub.com; UQ, Geoff Ginn, 0429 947 482, 3365 6407, g.ginn@uq.edu.au; Alex Lister, 0422 809 917, s4271206@student.uq.edu.au.
Originally posted: https://www.uq.edu.au/news/article/2015/06/student-explore-club%E2%80%99s-rich-history