2013 RD Milns Visiting Professor: Professor Mark Golden
Professor Mark Golden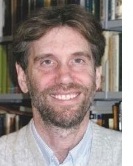 Mark Golden is a Professor of Classics at the University of Winnipeg.
Professor Golden is a leading authority on sport in the ancient world. He is also an expert on the social history of ancient Greece and Rome.
Professor Golden is the RD Milns Visiting Professor for 2013. He visited the School for 2 weeks during September, 2013.
During his time with the School, Professor Golden was involved in various events including:
Wednesday, 18 September: undergraduate lecture (for the course ANCH2040: The World of Classical Athens)
Thursday, 19 September: undergraduate lecture (for the course ANCH2280: Roman Society and Civilization)
Friday, 20 September: Research Seminar 'The Second Childhood of Mark Golden?'
Thursday, 26 September: Research Seminar 'Hierarchies of Heroism in Greek Sport'