2012 RD Milns Visiting Professor: Professor Judith M. Barringer
Professor Judith M. Barringer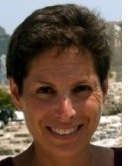 Judith M. Barringer is a Professor of Greek Art and Archaeology with the University of Edinburgh.
Professor Barringer is an acknowledged leader in the fields of Greek art, archaeology and mythology. Her scholarly work centres on the archaeology, art and culture of ancient Greece, particularly the intersection between art, myth, and religion, from the Archaic through Hellenistic periods. More specifically, she is interested in why images, particularly sculpture and vase painting, appear as they do and how they acquire meaning for ancient patrons and viewers from their physical and social contexts.
Professor Barringer visited the School from 27 August - 7 September, 2012.
During her time with the School, Professor Barringer was involved in various events, including:
Tuesday, 28 August: undergraduate lecture (for the course ANCH3020 - War and Games in Classical Athens)
Tuesday, 28 August: public lecture, "The Festival of the Ancient Olympics"
Thursday, 30 August: public lecture, "A Cultural History of Olympia and its Monuments"
Friday, 31 August: Classics research seminar, "The Changing Image of Zeus at Olympia"