2011 RD Milns Visiting Professor: Emeritus Professor Erich Gruen
Emeritus Professor Erich Gruen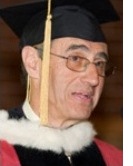 Erich Gruen is an Emeritus Professor of History and Classics at the University of California, Berkeley.
Professor Gruen's areas of academic interest have changed over the years. His interests have moved from Roman to Greek to Jewish history and from a political to diplomatic to cultural perspective of history.
Professor Gruen visited the School from 9 - 17 September, 2011.
During his time with the School, Professor Gruen was involved in various events, including:
Friday, 9 September: Classics research seminar, "Jewish Appropriation of Greek Mythology"
Sunday, 11 September: public lecture, "Identity Theft in the Ancient Mediterranean"
Thursday, 15 September: undergraduate lecture, "Rome in the 50s BC/The Lead-up to Civil War 52-49BC"