2008 RD Milns Visiting Professor: Emeritus Professor Beryl Rawson
Emeritus Professor Beryl Rawson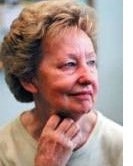 Beryl Rawson was a Professor Emerita of Classics at the Australian National University.
Professor Rawson was an historian of Ancient Rome. Her pioneering work in the systematic analysis of mass funerary inscriptions built a new picture of family life in Ancient Rome. Professor Rawson's research was critical in establishing the new field of studies of the family in the Ancient World. She was the first woman to serve as President of the Australian Historical Association.
Professor Rawson visited the School from 2 - 9 April, 2008.
During her time with the School, Professor Rawson was involved in various events, including:
Friday, 4 April: Classics research seminar, "Concepts of Slavery and Freedom in Roman Imperial Society"
Sunday, 6 April: public lecture, "Visualising the Roman Family: Finding Families and Children in Public and Private in Ancient Roman Society"
undergraduate lecture (for the course ANCH2400 - Society & Culture of the Ancient World)