CAH Progress Reviews: Oskar Fletcher - Apollo Karneios in the Peloponnese & Paige Maunder - Families of the Frontier: Women and Children at Vindolanda
Oskar Fletcher (UQ MPhil): Apollo Karneios in the Peloponnese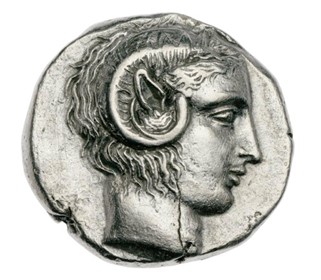 The cult of Apollo Karneios was central to Spartan society, and served as a wider symbol of Dorian identity and legitimacy in the Peloponnese. Celebration of the Karneia, the festival dedicated to Apollo Karneios, was even prioritised over waging war. Monuments and sanctuaries dedicated to Apollo Karneios were located throughout the Peloponnese, worshipped by various Dorian cities as well as peoples conquered by Sparta. Apollo Karneios was thus entwined with the history and values of this entire region. However, there are very few sources that openly discuss Apollo Karneios, and his iconography and cultural role both remain shrouded in obscurity. The precise structure and traditions of the Karneia are also unclear. This seminar examines extant evidence that sheds light on the origins, iconography, and ancient perceptions of Apollo Karneios in the Peloponnese. It will consider militaristic, initiatory, colonial and agricultural interpretations of the Karneia, and how these frameworks overlap. The presence of ram horns in this cult, their symbolism within Spartan culture, and the effect they had on wider perceptions of Apollo Karneios will also be explored.
About Classics and Ancient History Seminars
Event details
The seminars take place at 4pm, in the Michie Building (09), Room 536

Seminars are also on Zoom. Send an e

mail to Duncan Keenan-Jones (

d.keenanjones@uq.edu.au

) for the link.

Upcoming seminars can be found here.
Please be aware that we are still operating under Covid-19 regulations during public events. Masks are no longer required at UQ locations - however, UQ strongly encourages mask wearing when physical distancing is not possible. UQ strongly encourages all campus attendees to be up to date with vaccinations. And finally, those who are feeling unwell, have been diagnosed with COVID-19 in the previous 7 days or have been in close contact with a confirmed case in the last 7 days, are asked not to attend this seminar.
For those attending in person, if you would like to join us for drinks and/or dinner afterwards at UQ's St. Lucy's

 from 5:15 pm, please RSVP by email to Duncan Keenan-Jones (

d.keenanjones@uq.edu.au

) by 9am on the day of the seminar.

Please also contact Duncan Keenan-Jones should you have questions about the event.
The Friends of Antiquity, an alumni organisation of the University, runs its own series of public lectures, which take place on Sunday afternoons. The Friends' program for can be found at https://alumni.uq.edu.au/friends-of-antiquity
Venue
Michie Building (09) Room 536
For the Zoom link, send an email to Duncan Keenan-Jones (d.keenanjones@uq.edu.au)