CAH Progress Review: Josephine Carroll-Walden - More Than Just Rome's Fashion Police
Josephine Carroll-Walden: More Than Just Rome's Fashion Police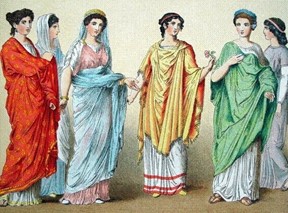 The Empress Julia Soaemias, the mother of the Emperor Elagabalus, held leadership of the senaculum ('the little Senate'), an assembly of elite Roman women, during her son's reign. The Historia Augusta claims that Rome's matrons were corrupted by Soaemias, who used this council for discussing and regulating women's fashion. Consequently, modern scholars have dismissed the senaculum as a trivial and ineffective organisation.
This paper will challenge this long-standing view. The hostility towards the senaculum in both ancient and modern scholarship, stems from a lack of understanding that women's fashion served numerous important social and political functions in ancient Rome. The Roman moralising tradition is responsible for perpetuating a misogynistic discourse against luxuries, as wasteful, morally corrupting, and emasculating items from the effeminate East. Despite the extent to which this ideology permeated the Roman social conscience, the ancient sources reveal that women's adornment was highly valued for its ability to advertise personal and familial status, wealth, and political influence. Therefore, by examining the multiple social and political roles that women's fashion performed in Rome, this paper will demonstrate that the senaculum held a high degree of power over Roman public life through its regulation of adornment and luxury items.
About Classics and Ancient History Seminars
Event details
The seminars take place at 4pm, in the Michie Building (09), Room 536

Seminars are also on Zoom. Send an e

mail to Duncan Keenan-Jones (

d.keenanjones@uq.edu.au

) for the link.

Upcoming seminars can be found here.
Please be aware that we are still operating under Covid-19 regulations during public events. Masks are no longer required at UQ locations - however, UQ strongly encourages mask wearing when physical distancing is not possible. UQ strongly encourages all campus attendees to be up to date with vaccinations. And finally, those who are feeling unwell, have been diagnosed with COVID-19 in the previous 7 days or have been in close contact with a confirmed case in the last 7 days, are asked not to attend this seminar.
For those attending in person, if you would like to join us for drinks and/or dinner afterwards at UQ's St. Lucy's

 from 5:15 pm, please RSVP by email to Duncan Keenan-Jones (

d.keenanjones@uq.edu.au

) by 9am on the day of the seminar.

Please also contact Duncan Keenan-Jones should you have questions about the event.
The Friends of Antiquity, an alumni organisation of the University, runs its own series of public lectures, which take place on Sunday afternoons. The Friends' program for can be found at https://alumni.uq.edu.au/friends-of-antiquity
Venue
Michie Building (09) Room 536
For the Zoom link, send an email to Duncan Keenan-Jones (d.keenanjones@uq.edu.au)