Coloured Faces: Cosmetic and Beauty Products of Imperial Rome
According to the works of Roman moralists, satirists, and rhetoricians the use of cosmetic and beauty products by women should be viewed as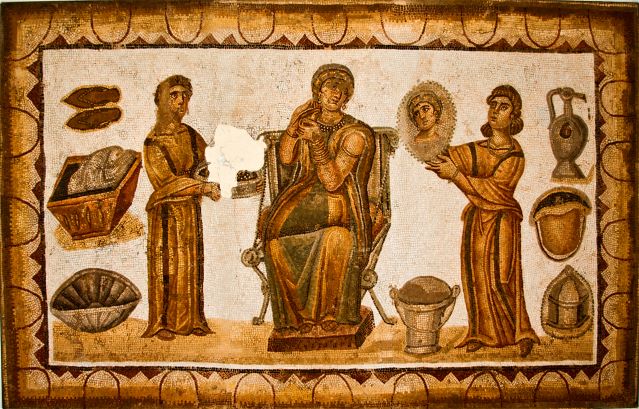 deceptive, wasteful, morally reprehensible, and indicative of a weakness in character.  However, as this study discusses, when we consider alternate literature such as Ovid's Medicamina Faciei Femineae and Ars Amatoria in conjunction with extant material evidence we are presented with an entirely different image. Instead, by the Imperial Period, the production and use of cosmetic and beauty products was widespread throughout Roman society. As evident from the archaeological record, trade and usage of beauty products was not restricted to large cosmopolitan communities, but rather extended into smaller settlements at the far reaches of the Empire. The use of cosmetic products formed a part of the wider corpus of adornment practices and was particularly essential for women in reiterating ideals of feminine beauty and in distinguishing social rank, identity, and wealth. This presentation will discuss the range of beauty products popular amongst Roman women and examine the significance of cosmetic use as an extension of established hygiene practices and the socio-cultural constructs of cultus (cultivation, refinement) and ornatus (ornamentation, adornment).
About Classics and Ancient History Seminars
Event details
The seminars take place at 4pm, in the Michie Building (09), Room 536

Seminars are also on Zoom. Send an e

mail to Duncan Keenan-Jones (

d.keenanjones@uq.edu.au

) for the link.

Upcoming seminars can be found here.
Please be aware that we are still operating under Covid-19 regulations during public events. Masks are no longer required at UQ locations - however, UQ strongly encourages mask wearing when physical distancing is not possible. UQ strongly encourages all campus attendees to be up to date with vaccinations. And finally, those who are feeling unwell, have been diagnosed with COVID-19 in the previous 7 days or have been in close contact with a confirmed case in the last 7 days, are asked not to attend this seminar.
For those attending in person, if you would like to join us for drinks and/or dinner afterwards at UQ's St. Lucy's

 from 5:15 pm, please RSVP by email to Duncan Keenan-Jones (

d.keenanjones@uq.edu.au

) by 9am on the day of the seminar.

Please also contact Duncan Keenan-Jones should you have questions about the event.
The Friends of Antiquity, an alumni organisation of the University, runs its own series of public lectures, which take place on Sunday afternoons. The Friends' program for can be found at https://alumni.uq.edu.au/friends-of-antiquity