What Can We Do with Objects in Greek Theatre? From Performance Studies to Thing Studies
10 September 2021

5:00pm

–

6:00pm
Associate Professor Anne-Sophie Noel, École Normale Supérieure de Lyon/HiSoMA

Material objects are now a well-established research topic in Greek tragedy. In the past decade, the most remarkable critical turn has been a shift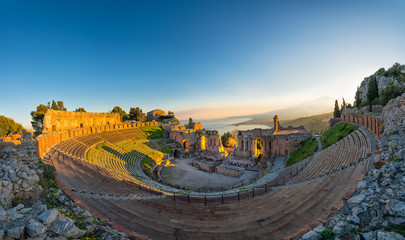 from a performance-oriented interest to an ontological questioning. While the first generation of scholars investigated how objects participated, sometimes crucially, in the performance of Greek tragedy, the current generation is more interested in the ontology of objects, namely the set of defining properties that characterise their being in ancient plays, and, more widely, how non-human and human beings coexist in the ancient tragic Weltanschauung. This shift raises epistemological questions that have not been explicitly formulated. Moreover, a response to these ontological debates on the 'life' of objects has been to absorb and apply new theories: posthumanism and new materialisms are now deployed as new heuristic tools broadening classicists's range of interpretative strategies. However, through a critical reading of Jane Bennett's acclaimed 2010 opus, Vibrant Matter, I show how radical new materialist ideas – advocating for the non-human turn – clash with ancient Greek culture. The ancient, tragic materialism indeed grants a relational existence to objects, entangled with human bodies, emotions and cognition.
 
About Classics and Ancient History Seminars
Event details
The seminars take place at 4pm, in the Michie Building (09), Room 536

Seminars are also on Zoom. Send an e

mail to Duncan Keenan-Jones (

d.keenanjones@uq.edu.au

) for the link.

Upcoming seminars can be found here.
Please be aware that we are still operating under Covid-19 regulations during public events. Masks are no longer required at UQ locations - however, UQ strongly encourages mask wearing when physical distancing is not possible. UQ strongly encourages all campus attendees to be up to date with vaccinations. And finally, those who are feeling unwell, have been diagnosed with COVID-19 in the previous 7 days or have been in close contact with a confirmed case in the last 7 days, are asked not to attend this seminar.
For those attending in person, if you would like to join us for drinks and/or dinner afterwards at UQ's St. Lucy's

 from 5:15 pm, please RSVP by email to Duncan Keenan-Jones (

d.keenanjones@uq.edu.au

) by 9am on the day of the seminar.

Please also contact Duncan Keenan-Jones should you have questions about the event.
The Friends of Antiquity, an alumni organisation of the University, runs its own series of public lectures, which take place on Sunday afternoons. The Friends' program for can be found at https://alumni.uq.edu.au/friends-of-antiquity