From Hilltop Landmarks to Suburban Place Makers: Brisbane's Post-War Religious Territories and Communities
17 September 2021

2:00pm

–

3:00pm
This presentation critically examines the shifting urban and architectural manifestations of ecclesiastical infrastructure in twentieth-century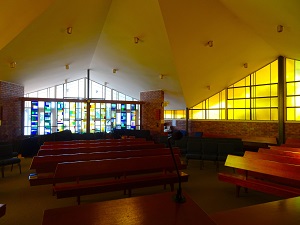 Brisbane, and considers how religious communities contributed to the formation of Brisbane's modern cityscape. Up until the mid-twentieth-century Brisbane consisted largely of timber houses. These sprawled across the city's hills and lowlands, divided by the meandering Brisbane River. At that time, among the most striking features of the city's landscape were its ecclesiastical buildings, which were mostly perched atop one of Brisbane's many hills or ridges. From the early-twentiethcentury, the four main branches of Christianity – Church of England, Catholic, Presbyterian and Methodist – had coexisted in a position of some strength in the city, and all preferred to
build hilltop structures. However, in Brisbane (as elsewhere), significant changes occurred in the religious realm from the mid-1960s. Whilst seeking to express religious renewal through built form, the Christian denominations concurrently pursued different territorial strategies. This presentation analyses how Brisbane's geography, religious leaders and town planners interacted to shape the development of church architecture developed in the city. Based on texts published in the journals of Brisbane's four major religious denominations, a chronological mapping of the development of the city's religious territory from 1945 until 1977, and the architectural analysis of a select number of Brisbane-churches, this presentation starts by examining how the different Christian denominations (re)positioned themselves after the 1950s, both in relation to each other, and in relation to newly developing secular community structures; then identifies what urban and community-building strategies were pursued in this highly multi-denominational religious territory; and finally considers how these affected church architecture.
Dr Lisa Daunt
Lisa Marie Daunt is a Brisbane-based architect and architectural historian, who earned her PhD in March 2021. Her dissertation, Communities of faith: Modern  church architecture in Queensland, 1945-1977, offers a fresh perspective on modernist church architecture, differing from accounts of such churches built for the largely settled communities in the northern hemisphere. It highlights how the development of church architecture in Queensland was very specific to its time and  place – a young, developing state covering a vast area of land, which was sparsely populated and highly multidenominational. 
Please RSVP to j.lancaster@uq.edu.au 
About Religion / History 2021 Seminar Series
Venue
Room:
E212, Level 2, Forgan Smith Building East