POSTPONED UNTIL FURTHER NOTICE: Friends of Antiquity Ancient History Day 2020: Spectacle
28 March 2020

9:00am

–

4:00pm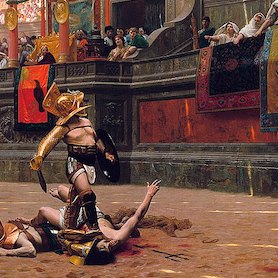 Presentations of 45 minutes each by:
Emeritus Professor Trevor Bryce (Ancient Near Eastern Spectacles: Displays of Power and Propaganda, and Shows for the Gods)
Professor Alastair Blanshard (Fes*vals of Athens)
Dr E. Strazdins (Spectacle and Commemoration of the Dead: the Case of Herodes Atticus)
Assoc. Prof. Tom Stevenson (The Triumphs of Pompey and Caesar: Spectacle and Competition in the Late Roman Republic)
Dr Amelia Brown (Spectacles of Animals, Music and Dance in the Circus of Christian Constantinople)
A play performance/reading
A detailed program will be available for collection in the foyer.
Registration
Advance payment recommended but may be made on the day. Plenty of seating available. Please submit your registration by 13 March 2020.
$55; $15 each for students with ID; $45 each for FOA/AFUQ members. Cost includes morning tea.
Timetable
8:00–9:00: REGISTRATION - Foyer of auditorium (Room 2171, Building 80)
9:00–9:10: CHAIR: Dr Dorothy Watts; WELCOME & INTRODUCTORY TALK: Head, School of Historical and Philosophical Inquiry (formerly HPRC)
11:00–11:30: MORNING TEA – Please note that food and drinks are not permitted in the auditorium
1:00–2:15: LUNCH - Food outlets on campus will be listed on signs in the foyer
Thanks and Close
Food
Food is available at some campus outlets or at St Lucia village or BYO.
Other Information
Parking at UQ is free on weekends (more information: www.pf.uq.edu.au/parking). The R D Milns Antiquities Museum is open at lunch break. There will be foyer displays and sales, including secondhand books (AFUQ) and Museum souvenirs. Visit the Co-op Bookshop for new book sales. Teachers only CPD certificates may be ordered on the day ($15 per certificate, postage included).
Contacts
Friends of Antiquity (enquiries@friendsofantiquity.org.au); R D Milns Antiquities Museum (www.uq.edu.au/antiquities); Alumni Friends of UQ Inc (07) 3365 1562; School of HAPI (07) 3365 2620.
Room 2171 (Auditorium), Building No. 80, Queensland Bioscience Precinct (https://maps.uq.edu.au/st-lucia)
The building is opposite the UQ Bus Stops in Chancellor's Place; entrance via ramp from street level
About Classics and Ancient History Seminars
Event details
The seminars take place at 4pm, in the Michie Building (09), Room 536

Seminars are also on Zoom. Send an e

mail to Duncan Keenan-Jones (

d.keenanjones@uq.edu.au

) for the link.

Upcoming seminars can be found here.
Please be aware that we are still operating under Covid-19 regulations during public events. Masks are no longer required at UQ locations - however, UQ strongly encourages mask wearing when physical distancing is not possible. UQ strongly encourages all campus attendees to be up to date with vaccinations. And finally, those who are feeling unwell, have been diagnosed with COVID-19 in the previous 7 days or have been in close contact with a confirmed case in the last 7 days, are asked not to attend this seminar.
For those attending in person, if you would like to join us for drinks and/or dinner afterwards at UQ's St. Lucy's

 from 5:15 pm, please RSVP by email to Duncan Keenan-Jones (

d.keenanjones@uq.edu.au

) by 9am on the day of the seminar.

Please also contact Duncan Keenan-Jones should you have questions about the event.
The Friends of Antiquity, an alumni organisation of the University, runs its own series of public lectures, which take place on Sunday afternoons. The Friends' program for can be found at https://alumni.uq.edu.au/friends-of-antiquity
Venue
Room:
Room 2171 (Auditorium), Building No. 80, Queensland Bioscience Precinct