Presenters: Mary Graham (Associate Adjunct Professor, POLSIS, UQ; Doctor of the University, QUT), Freya Mathews on video (Adjunct Professor of Environmental Philosophy, La Trobe), Merle Thornton (AM)
Facilitator: Michelle Boulous Walker (UQ)
Merle Thornton will join Mary Graham for a panel discussion launched by Freya Mathews via a specially prepared video, 'Wisdom from the Mount', filmed by Kate Lee insitu on a private biodiversity reserve in northern Victoria.
Mary Graham is a Kombu-merri woman. Born in Brisbane and growing up in the Gold Coast region, as well as being affiliated with the Waka Waka group through her mother, her life has been devoted to the search for meaning. Mary has actively served on the Boards and Committees of many Aboriginal organisations, worked in Native Title negotiation, and lectured and tutored on Aboriginal history, politics, and comparative philosophy at the University of Queensland and other educational institutions in Australia. She is an author of important essays on the differences between Indigenous and non-Indigenous thought, which she writes to further the conversation Australians should be having.
Merle Thornton became a well-known figure when in 1965 when she and Rosalie Bogner chained themselves to the bar rail at the Regatta Hotel to protest for women's rights; an event that played a very significant role in ushering in women's liberation in Brisbane and recognised as one of the defining moments of second wave feminism in Australia in the late twentieth century. At the time Merle was a post-graduate student in and taught Philosophy at the University of Queensland, and one month later established the Equal Opportunities for Women. In 1973 she introduced the teaching of Women's Studies in Australia. Later, in the 1990's she produced documentaries, and in 2004 published her first novel. In 2015 she was awarded Member (AO) of the Order of Australia in recognition of her advocacy for women and Indigenous rights and contributions to the arts as a writer and director. The Regatta Hotel now has a room named after her.
Freya Mathews is an Adjunct Professor of Environmental Philosophy at Latrobe University and a fellow of the Australian Academy of the Humanities who manages a private biodiversity reserve in northern Victoria. A prominent environmental philosopher and author of several books and over seventy articles on ecological philosophy, she shares special interests in ecological civilization, the potential of adapting Indigenous (Australian and Chinese) perspectives on sustainability to contemporary global society, and wildlife ethics.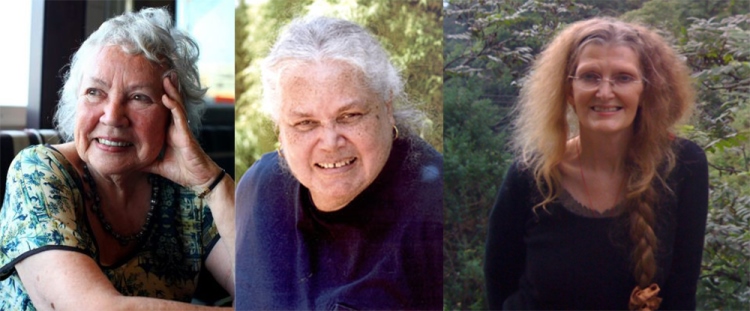 For more information visit: https://www.facebook.com/events/241863086211566/ or email hapi@uq.edu.au.
Venue
Abel Smith Building (23),
St Lucia campus