This lecture is organised by the School of Historical and Philosophical Inquiry and is held in loving memory of Ed Conrad, who was an internationally recognised scholar in the Studies in Religion program at The University of Queensland for many years. His monograph "Reading Isaiah" was a ground breaker in thinking about the way biblical texts are read in the context of living communities. Ed always had a keen interest in the Bible and Contemporary culture. Linda Conrad, Ed's widow and an accomplished scholar in her own right, sponsors this annual lecture in order to promote ongoing interest in this very important field.
2023 Ed Conrad Memorial Lecture - Mary Magdalene: From the New Testament to the New Age
Thu 5 Oct 2023

4:45pm

–

7:00pm
Registration:
8 August 2023
–
5 October 2023
Venue
Sir Llew Edwards Building (14), UQ St Lucia
All are welcome to attend our free event at The University of Queensland, however for catering purposes please register by Friday 29 September 2023. 
About the lecture 
This lecture focuses on the many 'lives' of Mary Magdalene as these have been imagined and reimagined within the Christian tradition. It explores the 'idea' of the Magdalene in the New Testament, her cult and her relics in the Medieval East and West, and her legacy in the modern West. In so doing, it illuminates the many different Maries: penitent prostitute, demoniac, miracle worker, symbol of the ascetic and the erotic, feminist icon, and most recently the wife and lover of Jesus in The Da Vinci Code. The story of Mary Magdalene leads to some reflections on the relationship between myth and history with the history of religion. 
About the presenter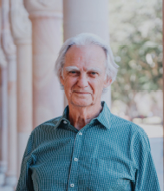 Philip C. Almond is Emeritus Professor in the History of Western Religious Thought at The University of Queensland. Among his most recent works are Mary Magdalene: A Cultural History (Cambridge: Cambridge University Press, 2022), The Antichrist: A New Biography (Cambridge: Cambridge University Press, 2020), God: A New Biography (London: I.B. Tauris, 2018), and Afterlife: A History of Life After Death (Ithaca, New York: Cornell University Press, 2016). His latest book, The Buddha: Life and Afterlife Between East and West will be published by Cambridge University Press, in 2024.
Program and timings
4:45pm: Registration
5–6pm: Public Lecture
6–7pm: Reception (light refreshments will be served)
Enquiries
Contact the School of Historical and Philosophical Inquiry via email: admin-hapi@uq.edu.au
Event image: Jan Polack, Public domain, via Wikimedia Commons