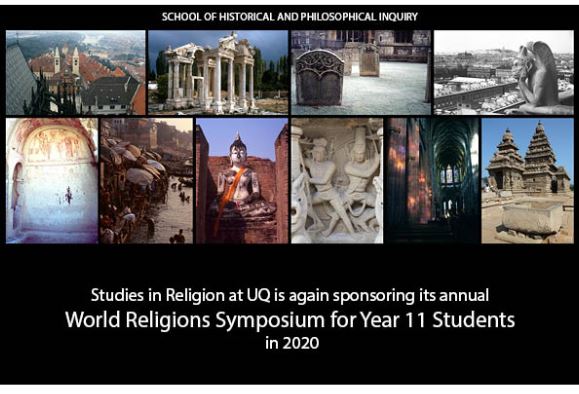 Each year Studies in Religion at UQ hosts the World Religions Symposium where attendance runs with 500 or more participants. Dr Adam Bowles and Associate Professor Neil Pembroke lead the final panel sessions and report an excellent level of student involvement. Students questions display a high level of sophistication. Feedback from teachers has indicated that the World Religions Symposium has made a positive contribution to student learning and to exposure to the University educational context. 
2020 World Religions Symposium
Wed 22 Jul 2020

9:30am

–

2:00pm
This event has been cancelled due to COVID-19.
Venue
Room:
Various lecture theatres across the St Lucia Campus
Cancelled for 2020 due to COVID, will resume in 2021
The next World Religions Symposium run by the Studies in Religion discipline will resume in 2021. For enquiries , please contact admin-hapi@uq.edu.au